Commercial & Industrial Steel Buildings
At Buildings-UK, we recognise the value of having an eye for detail when constructing a brand new, functional industrial steel framed buildings for use as a business unit or industrial buildings. Our steel building construction techniques satisfy and exceed the most stringent building standards, which makes our designs and aesthetics one of the best options available.
We allow you to implement your preferences and ideas into the design and construction of the industrial steel building so that you receive the utmost satisfaction with the quality of our services.
We offer reliable steel buildings which are affordable for your budget and best suited to your business requirements. With over 10 years of experience working in manufacturing and construction of different kinds of warehouses, our commercial and industrial steel buildings are easily some of the best in the construction industry.
New steel buildings constructed for your company or business need to be much more than just a practical structure. It also needs to be attractive as well and remain in a good condition for a long time. There's nothing worse than having a steel structure that is eroding and looks terrible after only a few years of construction.
At Buildings-UK, we understand the significance of providing and installing steel buildings that will readily perform their required function, while looking good at the same time. That is why we construct our steel buildings using only the finest materials and we provide you with great options that suit your functional and design requirements.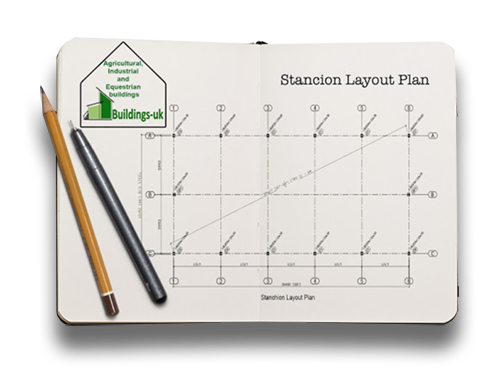 Our standards and care that we have for our clients is unmatchable. Each time we supply a new steel building, its a journey that we embark on, working closely with our clients to guarantee that they are kept in the loop about the process and progress of the project as well are more involved in the construction of their build.
We supply steel buildings that consist of bolted and welded factory buildings, stores, steel structures and rooftops etc. All kinds of steel pillars, beams, roof trusses, plates, templates and anchorage bolts are designed and manufactured for these structures.
We have various options on offer for the construction of your new building. Some of these include:
Light Industrial
Full Industrial
Light Commercial
Full Commercial
Full Turnkey Projects
Light steel frames have been around for over 50 years. Buildings-UK are confident that this way is the best path forward when it comes to constructing new steel buildings for newer businesses on a tight budget. Light Steel structures ensures that you are provided with the best quality materials, cost effectiveness and construction that requires the least amount of time wasted on waiting.
Full steel frames on the other hand are better for large scale businesses that are looking to have a larger building for heavy industrial work or large scale commercial work. The design is a little more complicated than light steel structures but the functionality of the building pays off greatly in the long run.
Steel Structures for Industrial & Commercial Purposes
Steel buildings for industrial and commercial purposes, in a busy place, are usually designed and manufactured to be heavy-duty and extra stable. The use of frames can decrease expenses, which makes the process a lot more cost-efficient, while not compromising on the quality and consistency of the structure.
A structure that is made and installed with very little thought is likely to start giving you problems within a few years. With our steel framed buildings, you are receiving an asset that will add value to your business and you can be confident that its going to give you numerous years of dependable storage or working space.
Based on your industry, the space that you have available, and the goal for your building, it is likely that you have very specific dimensions and requirements. By collaborating with our team, we take your requests into close consideration and deliver the ideal building for your needs.
From warehouses, steel agricultural buildings to offices, our steel buildings are able to change the way you do your day-to-day business. Constructed from the finest materials, our steel framed buildings are no doubt going to remain in excellent condition and will provide you with numerous years of good use.
Why Choose Steel for Your Building?
When you are searching for a strong construction material that will not let you down, there is no product that sticks out the way that steel does. You may also be interested to know that steel is an eco-friendly material and boasts many more advantages. Here are only a few of the reasons why you need to choose our commercial units:
Steel buildings will supply you with high-quality buildings.
Common and as well as particular repairs can be rapidly and easily carried out.
Any structure which is manufactured using steel can be readily renovated and expanded.
These structures have an excellent amount of durability and strength.
Steel buildings can be swiftly constructed.
The material is resistant to erosion, fire, invasive pests.
The design is equally strong and resilient.
Steel can be reused and repurposed.
Our Promise of Commitment to Perfection
There is not much that we have not been able to do when it comes down to steel building design for industrial and commercial usage Our dedicated team are committed to providing you with services that get the work done in the quickest amount of time possible.
Contact Us 
To find out more about our commercial units and the other types of services we have available, send us your contact details and we will get back to you as soon as possible or you can contact us directly by phone +44 1299 488 988 or alternative you can also email us on info@buildings-uk.com with your construction requirements.