A range of structures available with Buildings UK
Agricultural, Storage Houses, Structures for Animals, Large Building Construction
Farm Buildings, big farms and big business whether you focus on massive storage houses, structures for animals, large buildings for training purposes or any other needs, Buildings-UK specialises in a variety of designs to meet client mandates. On top of rapid construction, building designs are unique and are accompanied by additional benefits to provide an inclusive, high-quality service offering. Add to an existing business or begin your start-up business with a bespoke structure from Buildings-UK to build the economy in your area.
Farm Building Designs & Features
A range of steel building design kits has already been created to shorten the process of erecting the structure. Modifications are possible on request, as are specialist designs. Once the design of the building has been finalised, clients can expect their farm-related structures to be completed in as little as 2 months. We provide trained employees to plan and implement the installation process of agricultural steel buildings where indicated by the customer.
High Quality Farm Buildings
High-quality farm buildings for sale are resistant to corrosion yet are still accompanied by a long-term 5-year warranty. All steel materials utilised in construction have undergone shot blasting and have been primed and painted for protection from the elements. Additional protection via galvanisation is available to our customers should they require further safeguarding of the structure from harsh elements.
Customers can take comfort in the knowledge that steel is an environmentally friendly product. They can also rest assured that foundations are created from between 1 m to 2 m squared and more, as advised by agricultural specifications. All structural codes of practice are strictly adhered to in the making and erection of these structures. Further, manufacturing structural engineering consultants provide customers with specific designs, which comply with prevailing statutory regulations.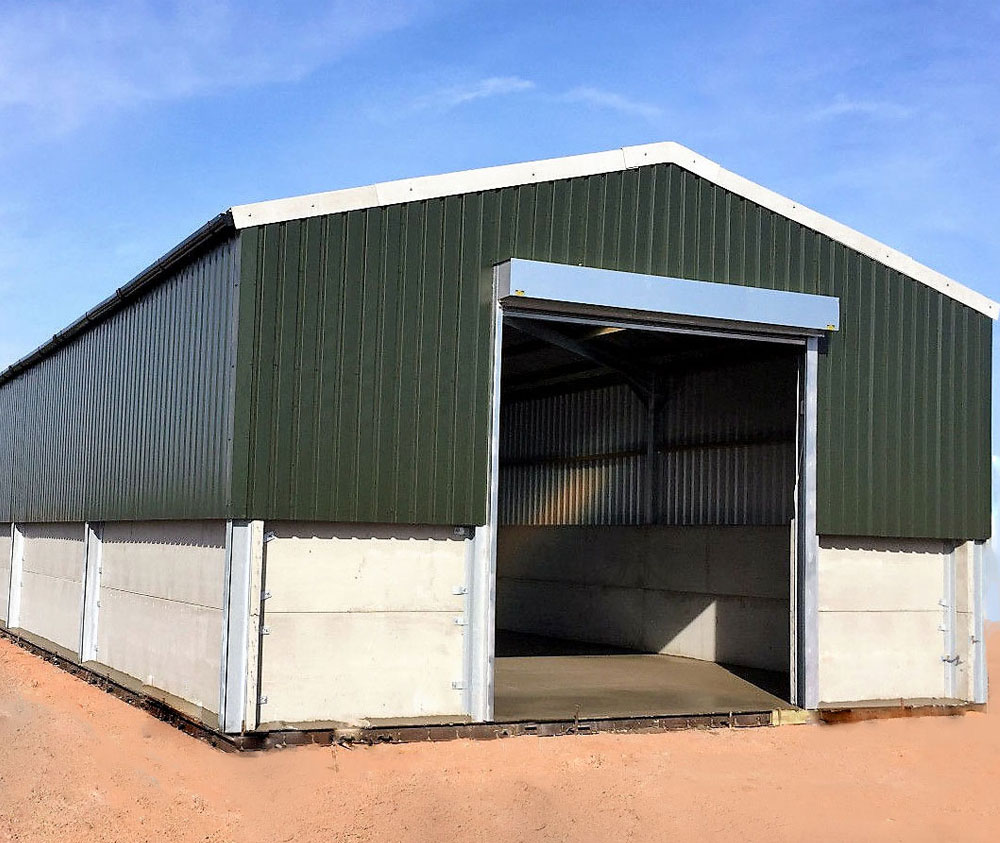 To date, the company has delivered and installed more than 550 buildings, which number continues to grow. Clients have requested farm buildings to store grain, house and protect expensive equipment, establish a horse-riding school, prepare food, and to use as a butcher shop, and many other reasons. Some clients have even ordered this product to host events such as trade shows, exhibitions, and entertainment to fully explore the profitability inherent in their property.

Happy customers have expressed their satisfaction in erecting steel structures quickly in a professional manner, at affordable rates. Feedback confirms that benefits derived from using the steel building design kit include generating additional income to promote sustainability and wealth. Standard designs or customised end products are what we specialise in, with before and after-sales service being a built-in benefit of all products that are sold.
Planning for your Farm Buildings
Planning is vital to choosing the right structure on your farm. Begin with understanding why you want a new structure. Clarify what type of structure will be needed to meet your needs and evaluate the overall situation to achieve the end goal. Considerations should encompass current and future use and needs, the longevity of the building envisioned, location, planning permissions, aesthetics, practical considerations including roofing, and project management to bring the building to life.
Many customers who consider these issues are not always aware of pre-built steel building design kits. They are frequently pleased to learn that these kits are readily available, and can be erected in as little as 6 to 8 weeks.
The numbers speak volumes